Fall paints a mesmerizing picture in Thailand, imbuing the scenery with a mix of gold and russet. As summer's luscious green wilts, the country takes on an entirely fresh charm, one only revealed during fall and winter. It's a newfound beauty that offers comfort, splendor, and strikingly fewer tourists.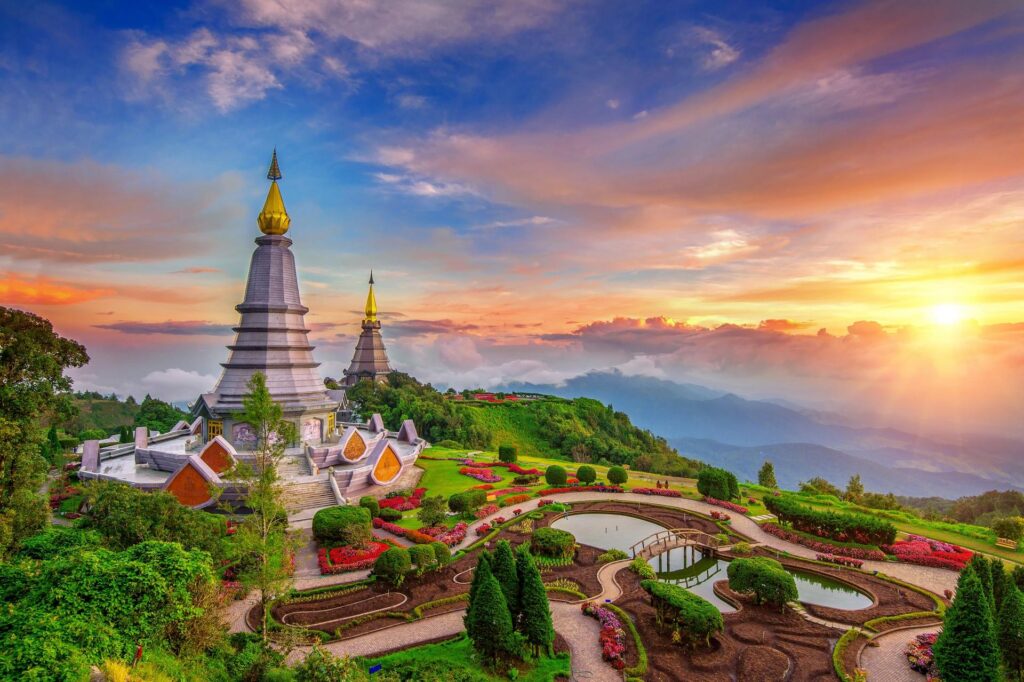 A Breath of Fresh and Cool Air
Fall and Winter in Thailand are noted for the noticeably cool and dry climate, a far cry from the country's typical hot and humid weather. The cool breeze gently sifting through ancient temples or zigzagging between the alleys of local markets is a breath of fresh air – Literally!
The temperature ranges from 10°C to 25°C, a pleasant departure from the scorching heat of summer. The "cool season" as natives fondly label it, extends from November till February. For those seeking communion with nature, an escape from harsh winters elsewhere, Thailand during these seasons is your sanctuary.
Fewer Tourists: More Room to Explore
One of the prime advantages of visiting Thailand in the fall and winter is the lesser crowd. Renowned tourist spots that usually draw hordes of voyagers shrug off their bustling façade and adopt a serene, more welcoming aspect.
Imagine exploring the grandeur of the Grand Palace in concentrated silence. Or maybe strolling down the streets of Pai, unhindered by heavy traffic! This freedom to immerse oneself in local culture and vibrant landscapes, truly enhances the overall travel experience.
Wellness Retreats: Your Path to Zen
Against the backdrop of quieter tourist spots and cooler climates, the wellness retreats in Thailand spring to the forefront. They specialize in providing holistic healing experiences – combining elements of yoga, meditation, spa treatments, and organic food.
Whether it is the Kamalaya Koh Samui with its extensive repertoire of detox and stress & burnout programs, or the Chiva-Som Hua Hin with its strong focus on lifestyle modification and sustainable wellness, you're in for an experience of a lifetime. These retreats are designed to rekindle your mind-body balance and refine your perspective towards happiness, health, and overall wellness.
Immersed in the heart of verdant jungles, flanked by sprawling beaches, or nestled atop majestic mountains, these wellness retreats offer not only a form of escape from the mundanity of chaotic life but also a path leading to self-discovery, peace, and internal joy.
Savouring Seasonal Delights
The fall boasts rich harvests of local fruits like Pomelo, rose apple and custard apple. Winter is not far behind with its share of seasonal delicacies being produced abundantly, from strawberries to tangerines. The Thai cuisine that's already famous for its flavourful dishes, acquires an extra edge when these seasonal knick-knacks are added to the mix.
And of course, fall marks the commencement of an exciting string of festivals. The Loy Krathong, often translated as 'to float a basket' festival, falls in the month of November. This festival of lights, with countless lanterns dotting the night sky, presents a sight to behold. In December there's The King's Birthday, a grand spectacle illuminating the night skies with its impressive fireworks.
Winter visitors can participate in the Boon Lang Fa and Chinese New Year celebrations. They offer an array of traditional customs and performances, food fairs, and vibrant street parties that encapsulate the spirit of Thailand.
Embrace the Harmony: Health and Happiness
Thailand, with its panoramic landscapes, intriguing cuisine, and world-renowned wellness retreats, has always stood as an epitome of an ideal vacation spot. Yet, under the cool canopy of fall and winter, the country transforms into a haven where health and happiness are found in harmony.
It offers unruffled serenity amidst ancient temples, takes wellness seriously with its tranquil retreats, and fuels the spirited explorer with seasonal delicacies exploiting the rich harvest of fall and winter. The bottom line is Thailand, during fall and winter, is a paradise worth exploring, where each journey enhances your overall wellness and inspires unparallel joy.
So, consider planning your escape to Thailand this fall or winter; you'll discover not just a land of enchanting beauty, but also a reason to fall in love with seasonal traveling. After all, wellness is a journey and Thailand offers one of the most scenic routes.